Los Angeles-based quintet Guns N' Roses had everything going for them in the 1980s and '90s, with hits like "Welcome to the Jungle" and "Sweet Child O' Mine" from their now classic 1987 debut, "Appetite for Destruction." Across all their albums, GnR played an especially ferocious brand of hard rock with a classic sex and drugs attitude (via AllMusic). Roughly a decade after "Appetite" first came out, the strong personalities within the band — as well as a dark secret from singer Axl Rose's past — became too much. As a result, GnR's lead guitarist, Slash, left the group. (Slash rejoined in 2016, per Revolver.)
With that mid-'90s exit from Slash, many thought GnR would not be the same. In addition to Slash and Axl Rose, the band's classic lineup included Steven Adler on drums, Izzy Stradlin on rhythm guitar, and Duff McKagan on bass. Other members have come and gone over the years. Back then, Slash not only shredded his GnR guitar parts and solos, he had the right look, with a signature top hat, dark, flowing hair, and sunglasses. Most interesting, perhaps, about the Axl Rose and Slash feud from that era, is that it came to a head when Slash agreed to work with another controversial pop singer — a superstar who performed a very different style of music than what GnR was known for.
A Slash side project brought up a traumatic experience from Axl Rose's past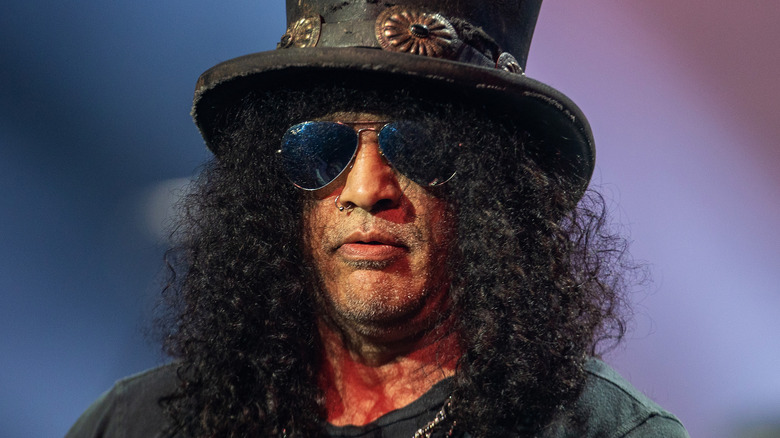 The most common explanation for why Slash left Guns N' Roses blames creative and professional differences between Slash and Axl Rose that could no longer be resolved. Guitarist Izzy Stradlin and drummer Steven Adler had already left when Slash made his decision, and after his exit from GnR, Slash went on to perform with groups like Velvet Revolver and Slash's Snakepit (via Biography). Though tensions with Rose certainly played a part in Slash's exit from Guns N' Roses, that story presents an incomplete picture of what really drove a wedge between the two rock stars. Fault lines between the musicians, in fact, began when Slash agreed to play guitar with Michael Jackson on MJ's hits like "Dirty Diana," among others. Jackson died in 2009 under a cloud of child abuse allegations, as Biography notes.
At the time that Slash agreed to work with Michael Jackson, though, those child abuse accusations were mostly just rumors. Nonetheless, Rose strongly disagreed with Slash's decision to work with the late pop star. Axl Rose said that he, too, had been abused as a toddler by both his own father and stepfather, and for this reason, Rose believed the young men who accused Jackson of molestation. As former GnR manager, Doug Goldstein, told Rolling Stone Brazil in 2015, Rose was devastated by Slash's decision to join forces with Jackson. After leaving Guns N' Rose, Slash worked with Jackson for the better part of two decades, as Ultimate Classic Rock explains.
Axl Rose's alleged abuse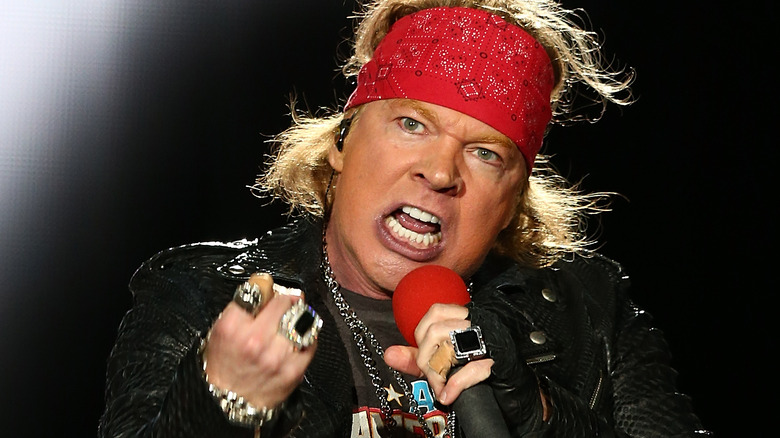 Born William Bruce Rose Jr. in Indiana, Axl Rose accused his own father of abuse in a 1992 interview with Rolling Stone. These memories had just recently reemerged for the rock star through regression therapy, as The Guardian notes. Rose's mother split with his biological father around that same time. The abuse allegedly took place when Rose was just two years old. His mother later remarried a man whom Rose believed to be his real dad. Tragically, Rose also alleges he was also physically abused by his stepfather, along with his two half-siblings. The truth about Rose's real dad came out when he was 17 (via Rock Celebrities).
Through regression therapy, Rose claims to have memories of both his abduction and sexual abuse at the hands of his biological father when he was just a toddler. According to Rose, he remembers the kidnapping, and he remembers a needle. Axl Rose said (via Rolling Stone), "I remember getting a shot. And I remember being sexually abused by this man and watching something horrible happen to my mother when she came to get me. I don't know all the details." Living with something so horrific affected Rose for the rest of his life. With the knowledge of what he believes he went through as a child, Rose felt Slash should turn down Jackson's offer on account of the child abuse allegations against the pop singer.
Slash also disagreed with Axl's business decisions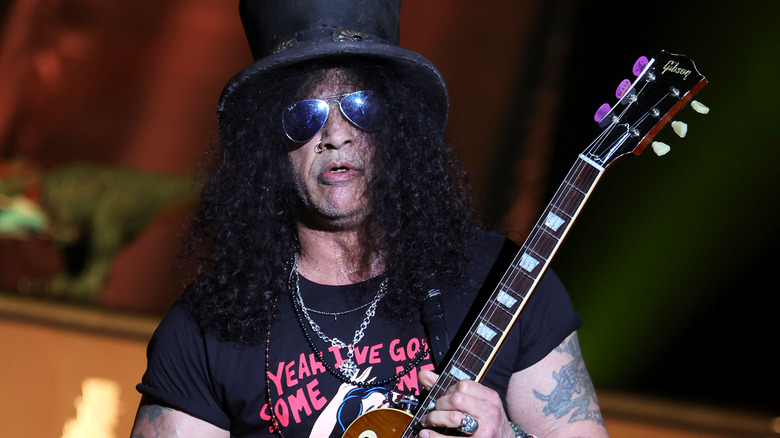 Layered on top of tensions between Rose and Slash because of Michael Jackson, around this same time fortunes had changed for the once chart-topping group. The same year that Slash made his exit, the band's cover album, "Spaghetti Incident," flopped (via AllMusic). Slash also took issue with how much control Rose had then exerted over the band, as NME reports. Rose made his bandmates sign contracts which would make them more or less his hired hands and not full-fledged band members. In light of this, as well as Rose's worsening behavior both on stage and behind the scenes, Slash made his decision to go.
In 2012, Slash told Piers Morgan on CNN (available to stream now on Youtube), "It wasn't even me necessarily leaving the band … it was not continuing on with the new band that Axl put together that he was now at the helm of, which was the new Guns N' Roses. I was given a contract to basically join his new band, and it took about 24 hours before I decided, I think this is the end of the line." In 2014, when Guns N' Roses was inducted into the Rock 'n' Roll Hall of Fame, the press and GnR fans wondered if the original lineup would show up, putting Slash and Axl Rose on stage for the first time in years. Slash, McKagan, Adler, and a later member, Matt Sorum, did appear after Axl Rose pulled out at the last minute (via NME).
The GNR feud is now put to rest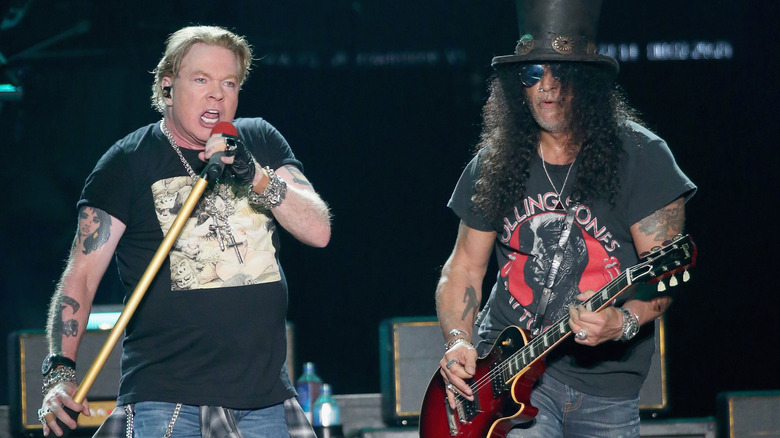 All reasons and motivating factors combined, Slash stayed away from Guns N' Roses for two decades. In the mid-2010s, though, Rose reached out to his former lead guitarist to make amends. The original GnR lineup is now back together and touring, according to the official Guns N' Rose website. They've also released some new songs, such as "Hard Skool" and "Absurd." In 2022, Slash told Louder Sound that he was confident that even more Guns N' Roses material would soon be released, including possibly a brand-new full-length album. The musician also said there is a new synergy within the band since their reunion. Slash called the reunited band's 2016 Coachella Festival appearance (via Louder Sound) "[A] magical kind of thing," and "an overwhelmingly positive experience."
Slash's welcome back into Guns N' Roses came through a phone call, the guitarist told USA Today, adding that he was thankful that Axl Rose had the wherewithal to reach out after all those years spent apart. It felt good to get rid of all that negative baggage. Slash also said (via USA Today), "It'd been 20 years of not talking and letting this bad blood continue to be perpetuated by the media. It turned into something way bigger than what was really going on, so it was good to get past that." Slash also told The Guardian in 2019 that his differences with Rose were overcome by just talking, and that when all was said and done, much of the feud was based on a misunderstanding.